The Day Chicago Killed My Car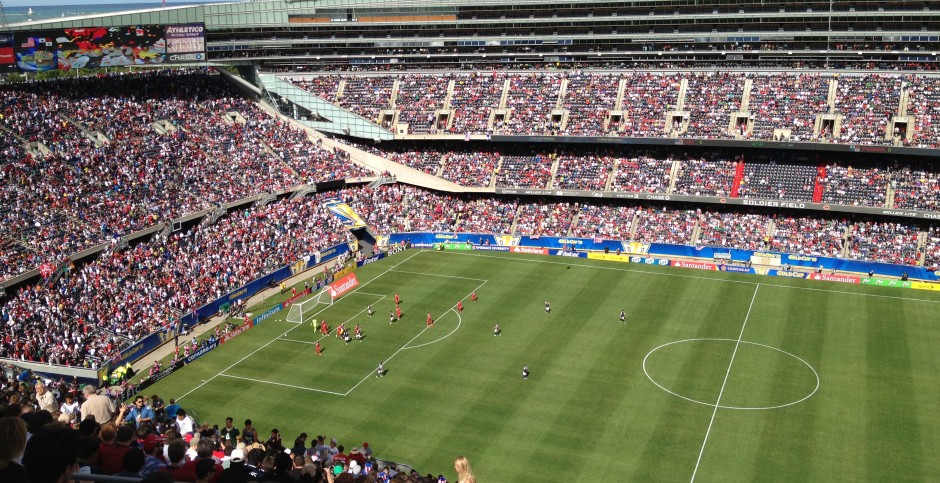 I head back to Uruguay in less than two weeks, and I recently came to the realization that I hadn't done anything spontaneous or crazy with my summer. I decided to change that. On a whim, I decided to drive to Chicago with my brother and two friends in order to see the US Men's National Soccer team play in the Gold Cup Final at Soldier Field. When we bought the tickets, they still hadn't qualified yet. But to our relief, they won their semi-final match, and we were going to see them play… a.k.a. I was going to see Landon Donovan in person. Sweet.
For the sake of clarity, here is a timeline of everything that happened in these 24 hours. My apologies, but this is not a short story:
5:30am: (Sunday morning): We wake up
6:00am: We left Hudson.
6:20am: We forgot the tickets in the kitchen, so we need to turn around. Crap.
6:40am: We leave Hudson again, round two.
7:30am: Breakfast burritos and coffee. Self-explanatory. My brother Tony drives from here, and I'm out for three hours.
11:20am: We arrive in Milwaukee to pick up my friend Adam. I take the wheel to drive the rest of the way.
12:00pm: We are about an hour outside of Chicago when traffic starts to slow down. This is okay, because the game starts at 3pm. Of course we would be fine…
1:15pm: Emergency bathroom break in possibly the most disgusting bathroom I have ever seen, in some random Chicago suburb.
2:10pm: We arrive in Downtown Chicago, and traffic is barely moving.
2:45pm: We are within a mile from Soldier Field, and we begin to see smoke coming from the engine, accompanied by a horrible smell of burning plastic. The heat gauge is as high as it can go. Words were exchanged, words that I will choose not to repeat here…
3:10pm: The match starts. We are still at least a half mile from the stadium. I am forced to constantly turn the engine on and off in-between stops in an effort to get to the parking lot before the engine dies.
3:40pm: We finally arrive at the parking lot (recap: it has now taken 45 minutes to travel one mile). The engine has neither caught on fire nor has it stalled. Obviously we decide to go to the game and let the engine cool down.
3:43pm: We realize we have to walk 17 minutes to get to Soldier Field (even though we are in one of the official stadium lots, so you can imagine we are a little annoyed).
4:00pm: We arrive at the stadium, the game is in-between periods.
4:10pm: The second half starts about 10 seconds before we take our seats.
4:33pm: USA scores in the 68th minute (the only goal of the match). We go crazy.
4:05pm: The game ends, USA wins 1-0. It was a miracle that we were even able to see a full half, not to mention the winning goal. We stay to watch the award ceremony.
5:00pm: We leave, and meet up with a couple other friends to find a place to eat.
5:45pm: After a lot of walking, we find a pizza place that wasn't full of fans.
6:30pm: I call my Dad during dinner to explain the car problems (the car belongs to him). He gives me a few possible ideas to try when we get back to the car.
7:30pm: We finish dinner, and walk the 1.5 miles back to the lot.
8:00pm: We return to the car and check the coolant: it's empty, so we decide we need to drive to a gas station to buy some to replace it.
8:15pm: We buy coolant, fill up the tank, and we're set. Problem solved. We begin driving home.
8:30pm: We run into traffic again on I-90, things are at a stand-still (right next to the Chicago skyline).
8:35pm: More smoke from the engine. The heat gauge is back up again. We decide we need to do our best to get out of the city, and then check the engine later. Tensions are high.
8:45pm: All of a sudden the engine dies while we are at a stand-still in the center lane. We are stuck, in the middle of thousands of cars. I put the flashers on.
8:46pm: To my relief, the car starts again. I immediately cut through two lanes of traffic to get in the right lane (There is no shoulder where I can pull over). The right lane is moving now, and there is an exit up ahead. I take the exit, and even though the engine is still smoking, the car is running.
8:48pm: The exit ramp takes me back into downtown Chicago, and I see an area on the right where I can pull off. As soon as I move the car to the right, the engine dies for a second time. We knew this was it.
8:56pm: After discussing for a little while, we decide that I need to call Triple A (we have a membership, but I had never had to use it before).
9:10pm: After a lot of time on the phone, we get a tow truck to come. We continue to discuss the situation.
9:15pm: I call me Dad, and he suggests renting a car because no one knows when the car will be fixed. We decide that we need to leave the car in Chicago and rent a car to get home.
9:25pm: After a few calls, we learn that the only rental car places in the city close at 10pm. We realize there is no way we can make it.
9:30pm: After calling Triple A again, we learn that the rental car companies at O'hare Airport are open 24 hours.
9:35pm: Triple A calls me to tell me the tow truck should be there within an hour.
9:40pm: We decide to split up: My brother Tony and my friend Adam leave the car to find a taxi and go to O'hare to get a rental car. My friend Josh and I stay in the car and wait for the tow truck.
10:00pm: Adam calls to let us know they found a taxi and are on their way to the airport.
10:15pm: The tow truck arrives, and within 15 minutes we are in route to an auto repair place 5 miles away. The next 20 minutes include one of the more ridiculous conversations of my life while the tow truck driver, Gerry, talks about everything from not understanding soccer to which clothes you shouldn't wear during a heat wave.
10:35pm: We arrive at the shop. We leave the car, fill out information, grab all personal items from the car, tip Gerry, and say goodbye. Then we wait.
10:36pm: Adam calls to say they will arrive at the auto shop in about 30 minutes. Josh and I decide to go find a beverage while we wait.
11:05pm: The rental car arrives, and we are on our way home. My brother Tony has to drive the whole 6 hours because the car is in his name.
12:30am (Monday): We stop in Milwaukee to drop off Adam. He needs to wake up for work in 4 hours.
12:50am: We stop at Taco Bell, because it's time for fourth meal. I decide to stay awake the rest of the trip to make sure my brother doesn't fall asleep driving. Josh is out for the rest of the trip. I blame Taco Bell.
5:45am: We finally arrive back in Hudson, 24 hours later, and only about four hours behind schedule. We crash in the basement and sleep until noon.
Conclusion: Chicago traffic killed my car (it's actually fine now, just a 200 dollar repair).